Munich, Salzburg and Vienna
When one visits Munich, the first thing to do is not sign up for a "City Tour" but to visit the Documentation Center that focuses on World War II and the rise of the National Socialism party aka the "Nazi party". The Center shows, in a very objective way, how the Nazi party started and its rise. The Documentation Center chronicles what part Munich played in the support, rule and crimes of the Nazi dictatorship. It is a fascinating museum with news clips, videos, and films explaining the history of the Nazi party.
If you are interested in Contemporary art, the Museum Brandhorst is a must see destination. The museum houses what was once the private collection of Audi and Annette Brandhorst. Their collection started in the 1970's and shows some of their collection as well as rotating exhibitions focusing on prominent artists and important themes in contemporary art.
When I visited, on view was an extraordinary exhibition titled "Cy Twombly: In The Studio". This retrospective of paintings, sculptures, drawings and photograph spans an arc that reaches from the early 1950s right up to a picture from Twombly's very last series of works, completed in 2011.
The Lenbachhaus museum is known for their large collection of the works form the Blue Rider group. Established in 1911, the artists that are associated with this movement are Wassily Kandinsky, Franz Marc and Paul Klee and their works are shown prominently. Joseph Bueys is also highlighted with room after room of his works on view. The Lenbachhaus also shows international contemporary artist and when I visited there were a room filled with Sarah Morris' works and Franz Ackermann's wall paper and collages. It is worth the visit just to see the Olafur Eliasson mammoth chandelier in the entry hall.
The Pinakothek der Moderne collection is housed in a gorgeous contemporary building, dedicated to art from the last 50 years. The building is breathtaking inside and out and the collection is first class. What I found to be amazing were two photographs from Anselm Kiefer's studio. The photos show how Kiefer "styles" his complex works before they are attached to canvas or lead.
Give yourself at least two hours to enjoy this this exceptional museum.
A little jewel of a museum is the Glyptothek which houses one of the world's greatest collection of ancient Greek and Roman sculpture. The sculptures are dazzling and definitely worth a visit.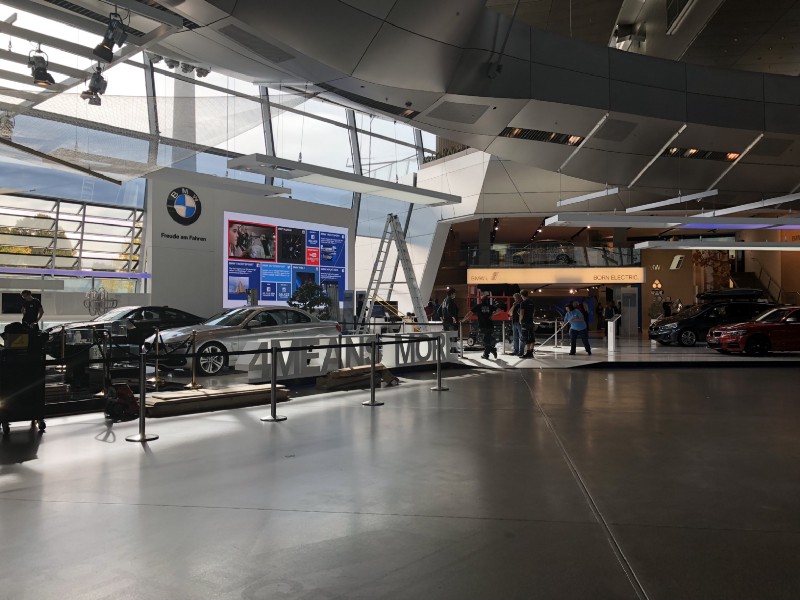 A tour of the BMW building and showroom was a fun surprise. The architecture designed by Coop Himmelblau is exciting and a great place to visit if you are a car buff. On the tour we saw elegant Rolls Royce cars, the newly designed electric vehicles and other very fast cars. This is were consumers can pick up their ordered cars with great fanfare.
I was disappointed that I was not able to see the Goetz Collection. It is house in a Herzog + de Meuron building that looks beautiful. I will have to put it first on my list for my next visit to Munich.
I engaged a lovely art guide in Munich when I arrived a day early. Marion Bierbling took me to some contemporary museums that were not on our group's schedule. She was terrific!
We decided to drive to Vienna because we wanted to visit Thaddaeus Ropac's gallery and home on the way. Thaddaeus Ropac Gallery, was one of the highlights of the trip. His gallery represents heavy hitting contemporary artists such as Antony Gormley, Tony Cragg, Alex Katz and Georg Baselitz. On view was Stephan Balkenhol's wood sculpture and new wood paintings.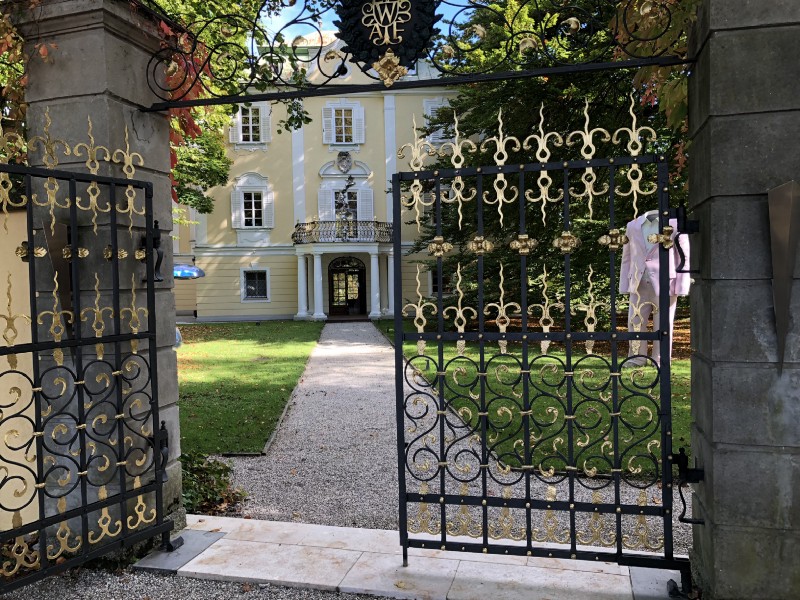 After the gallery tour we were hosted to a fabulous lunch at Ropac's home, Villa Emslieb. This beautifully scaled villa filled with art is situated in a vast garden on the outskirts of Salzburg. Ropac is famously quoted as saying, "as a gallery owner, I am my own best client!" This is true. In his private collection there are wonderful works by Andy Warhol, Joseph Beuys, Anselm Kiefer and Sigmar Polke among others.
The most fun art piece was in his swimming pool. Big bold letters spell out two words, "BE AMAZING". On this particular fall day the weather was perfect, the lunch in his magnificent dinning room was delicious and his art first rate. Thaddaeus Ropac "IS AMAZING"!
The numerous museums in Vienna are overwhelming. There are just so many excellent museums!
I would suggest going first to the museum Belvedere (Upper Belvedere) which is world renowned for its collection of masterpiece by Gustav Klimt, Egon Schiele and Oskar Kokoschka. A tourist warning, it is very crowded and I would visit this particular Museum early in the day.
The Museum Moderner Kunst Stiftung Ludwig Wien (MUMOK) is a fantastic contemporary art museums and deserves a couple of hours to enjoy the many floors. The architecture is very interesting, especially the elevator bank. When I visited the only artist that I was familiar with was Candida Höfer. Be sure to check out their fabulous book/gift shop and tea and cupcake bar. The gift shop sells multiple works by well-known artists. There are other museums in this museum complex that are worth while, all you need is a lot of time.
I visited 21er Haus (Museum of Contemporary Art) not far from the center of Vienna. The works shown were very contemporary. Some of the installation made me smile. Yoko Ono's "Mend Pieces" is an instillation that I saw last year in Chelsea. The concept is to put together some of the broken pieces of pottery and if you can mend the pottery pieces you can help mend world.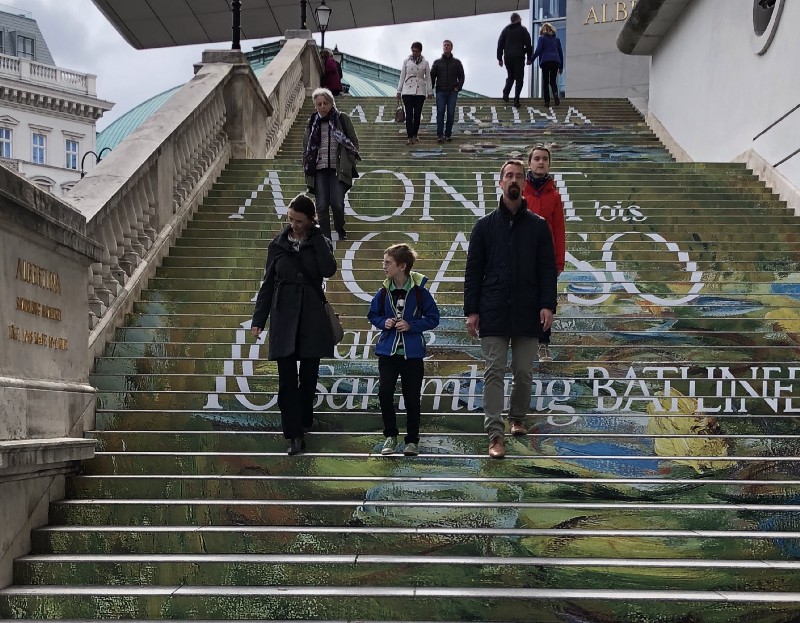 The World famous Albertina Museum does not fail to please. The big deal exhibition was "Monet to Picasso". The show was excellent as well as the downstairs galleries filled with international contemporary artists.. Many American artists were represented. Such as Alex Katz, Roy Lichtenstein, Ross Bleckner and many more.
Germany and Austria is so full of cultural institutions it is hard to see everything that is worthwhile.
I must mentioning the "Sacher Torte" as part of the Vienna experience. It is the most delicious dessert that I have ever tasted. Visitors line up for hours to experience this treat at the Hotel Sacher where the torte was first created.
Museum Listings for Munich:
Museum Listings for Vienna:
Museum Moderner Kunst Stiftung Ludwig Wien (MUMOK)
Austrian Museum of Applied Art
Hotels and Restaurants:
Zum Schwarzen Kameel; Hotel Sacher
Munich Art Guide:
Marion Bierling
0049 (0) 179 9313300
kunst@mukstudio.de