Private Museum Info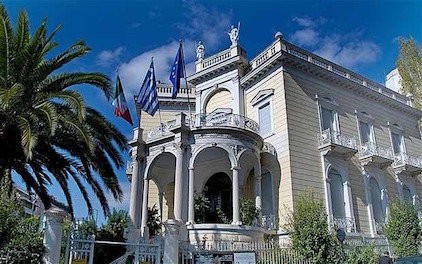 Name:
Museum of Cycladic Art
Address:
Neofitou Douka 4
Athens,
Greece
106 74
Hours:
Monday, Wednesday, Friday, Saturday: 10:00am- 5:00pm; Thursday: 10:00am- 8:00pm; Sunday: 11:00am- 5:00pm; Tuesday: closed
Contact:
+30 210 72 28 321-3
museum@cycladic.gr
Private Museum Description
Τhe Museum of Cycladic Art is dedicated to the study and promotion of ancient cultures of the Aegean and Cyprus, with special emphasis on Cycladic Art of the 3rd millennium BC. It was founded in 1986, to house the collection of Nicholas and Dolly Goulandris. Since then it has grown in size to accommodate new acquisitions, obtained either through direct purchases or through donations by important collectors and institutions.


Admission Details
General Admission (except for Monday): €7 {Per,anent Collections} €10 {Permanent & Temporary Exhibitions} Admission for Deste Prize 2017: €3.50 Monday General Admission: €3.50 {Permanent Collections} €7 {Permanent & Temporary Exhibitions} Reduced entrance fees: Seniors (over 65): €3,50 {Permanent Collections} €5 {Permanent & Temporary Exhibitions} Students (19-26 years old): €3,50 {Permanent Collections} €5 {Permanent & Temporary Exhibitions} Groups of 15 or more: 5€ (each) 7€ {Permanent & Temporary Exhibitions} Free admission: Kids and young persons under 18 Visitors with disabilities and their companion Members of the MCA Archaeologists Archaeology and art history students Members of ICOM - ICOMOS Greek unemployed citizens, with their current unemployment card Journalists Qualified guides Teachers accompanying school-classes participating in educational programs Parents accompanying their kids for the Saturday's & Sunday's program